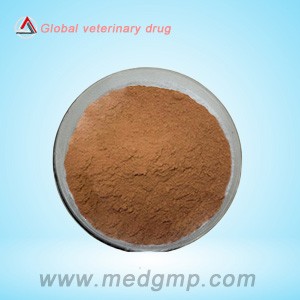 A mixture of virginiamycins M1 and S1
C28H35N3O7 (Virginiamycin M1) & C43H49N7O10 (Virginiamycin S1)
525.6 (Virginiamycin M1) & 823.9 (Virginiamycin S1)
Virginiamycin complex is a solid powder mixture of 75% virginiamycin M1 (Ostreogrycin A, 
sc-202269
) and 25% virginiamycin S1(
sc-202384
), two streptogramin antibiotics which present a synergistic bacteriocidal action. Virginiamycin M1 inhibits the function of the 50S ribosomal subunit without blocking its assembly, producing a bacteriostatic effect. With the addition of the virginiamycin S1 component the complex presents bacteriocidal effects, indicating an interaction between the two compounds upon their association with the ribosome.
An antibiotic used in livestock feed to prevent disease among young swine. Also is used in ethanol production to prevent microbial contamination.
DOSAGE IN FEED ADDITIVES:
For Chicken feed additives: 2-5mg/Kg
For Swine feed additives: 10-20mg/Kg
For laying chicken: F
orbidden
 to use
PACKAGE:
25Kg/drum or 1Kg/foil bag
Address:No. 419, Binhe Street, Qiaoxi Dist., Shijiazhuang, Hebei, China (Mainland)